SETTING UP A WIRELESS INTERNET CONNECTION
Login Process:
Select settings > WiFi > New network > "Ramada".
Enter your password – bookdirect -.
Done!
In case the connection does not work, please try the following settings:
Turn off Wi-Fi on your device, wait briefly, and turn it back on.
(Please repeat the login process)
Open the Wi-Fi settings

select the "Ramada" Wi-Fi
select e.g. on iPhone "Ignore this network" or on Samsung "Delete network"
Wait a moment until the Wi-Fi channel is shown again.
(Please repeat the login process)

Switch off your device and restart it.
(Please repeat the login process)
Switch on DHCP

Settings > Wi-Fi settings > Wi-Fi "Ramada"
Select details or info / DHCP
Renew the lease.
Please repeat the login process

Many devices only allow limited access to public networks.
Here the display shows a warning: Connection not secure!
Ignore this warning and continue to reload the page.
(If necessary, repeat the login process)
If you have already skipped point 5,
carry out point 2 and repeat point 5 again.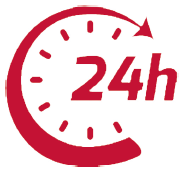 24h IT – Support:
Here are only the most common connection problems listed and how to solve them.
If none of the possible solutions work, please contact the IT administrator.
With your room telephone call the number 550.